Please note:
The Democratic Resource Center will be closed whenever the Eau Claire Schools are closed for inclement weather.
Thank you delegates to the 3rd CD!

Eau Claire County was represented by several area Dems and progressives. Congratulations to our own Bobbi Green, elected to be the 3rd CD Chair. CLICK HERE TO VIEW MORE PHOTOS
SHARE YOUR PHOTOS! SEND TO: ECCOUNTYDEMS@GMAIL.COM AND WE'LL POST ON THE EC DEMS WEBSITE!
Throughout the next few months we will be gathering for some social events and enjoying the many different workshops donated for the Auction made possible by the generous donation of businesses and individuals willing to share their talents.
Subscribe to our weekly E-NEWS & monthly newsletter!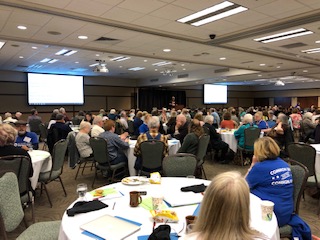 Like, follow, and subscribe!